Summary
World-class Workplace is an employer excellence-label awarded to high performing organizations once a year. The label is solely based on the opinion of employees. In this article you will learn about which questions are included in the World-Class Workplace survey.


Included questions
During the survey, 14 questions are presented to all employees of your organization. With these 14 questions we measure four scientifically validated themes. These are: ​
eNPS

​

Employership

​

Enablement

​

Engagement

​
You can view the 14 questions, as well as the explanation of the 4 themes, in the project library page. Navigate to your World-class Workplace project and on the bottom of the project page you can navigate to the 'Question library'.
​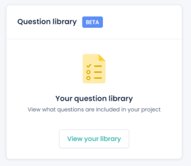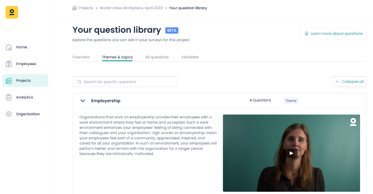 Once you are in the process of creating your survey in the platform interface you will be able to select the 14 questions (as well as the survey period and the participants). ​

If the score of your organization on the themes eNPS and Employership are higher than the Global Employee Engagement Index (GEEI) benchmark score and at least 30% of the employees have participated in the survey, you will be awarded the World-class Work place label. ​
​