Summary
To create surveys and view survey results In My Effectory, your organization's managers, HR contact person and colleagues will be assigned different roles. Each role comes with different responsibilities and access rights. In this article you will learn about the different roles, or coordinators, and their access rights.
Coordinator roles and access ri

ght

s.
The overview below gives an easy insight into the different coordinator roles and the rights they have.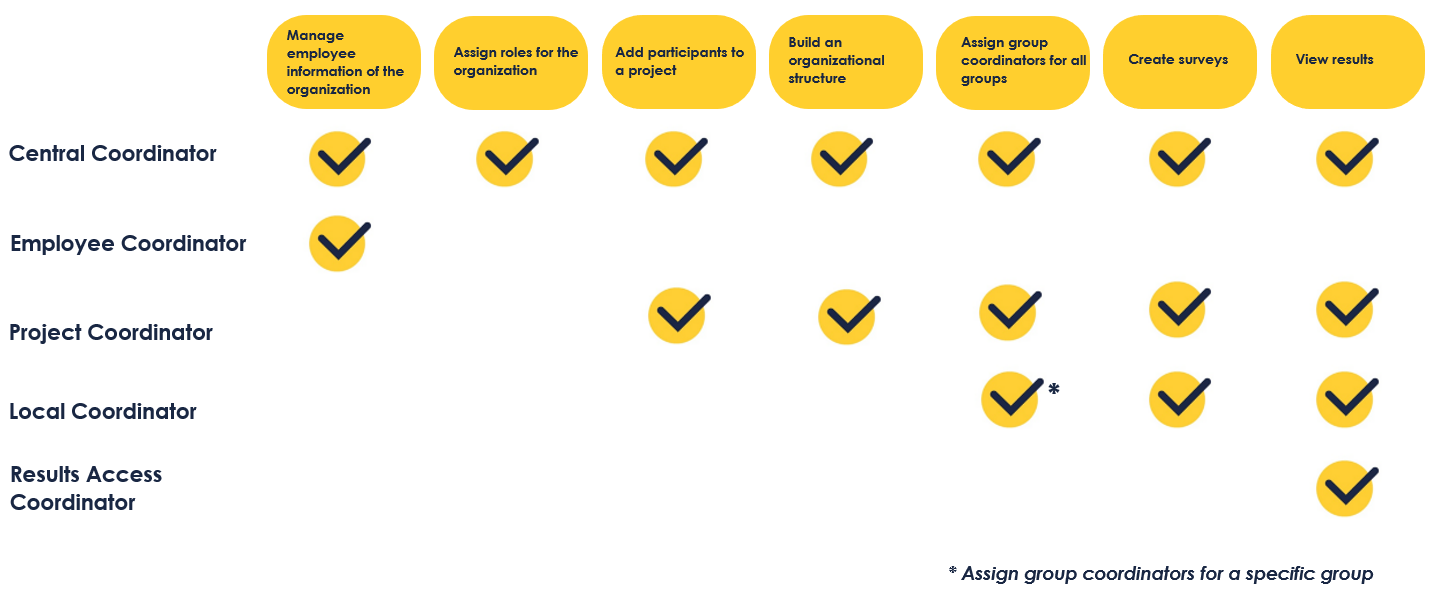 There are two types of coordinator roles: Organization Coordinators and Group Coordinators.
Organization Coordinators
Organization coordinators can operate on the account level. This means they can perform any action in the account regardless of the project(s) available.
Central coordinator.

A central coordinator can manage everything in the entire account. This includes uploading and managing the employee data, creating hierarchies, viewing the results and starting surveys. All projects in the account are accessible to the central coordinator. 

Employee coordinator.

An employee coordinator can upload and manage employee data or view the integration logs for the account. They cannot access any projects, unless they are also assigned as a group coordinator. 
Group coordinators
Group coordinators are coordinators that are assigned to a group in the organizational structure (e.g. a team, department etc.). Group coordinators are assigned to a project. They have access to the project page. But when making surveys or viewing results, they only have access to the employees and results of the groups they are assigned to.
Project Coordinator.

Project coordinators have full access to a project. This entails all settings, surveys, and results. The project coordinator is often an HR manager in charge of a specific project (eg. Onboarding, Geographical segment etc.).

Local Coordinator.

A local coordinator is assigned by the central coordinator or the project coordinator. They can create and send out surveys in My Effectory. The local coordinator is often a manager, team leader or, for example, a location manager.

Results Access Coordinator.

A Results Access Coordinator has access to the results dashboard. They can view the results for specific team(s) within the organizational structure. They can also follow the survey response for the teams(s) they are assigned to. results Access Coordinators are often a team manager. Important to note: Results Access Coordinators can't create surveys.
Note: Choose the right employees to assign as local coordinators and results-access coordinators. You can assign one or a group coordinator to every group in your organizational structure. Keep in mind that when you assign a coordinator to a specific group, they will also have access to all sub-groups below that group.
Want to learn how to assign Group coordinators in My Effectory? Read Role management - How to add group coordinators? – Effectory