If you are a manager of a team or department, you can find the team results for this team in My Effectory.  
As soon as the results are available, you will receive an e-mail from Effectory with a link to My Effectory. You can use this link to log in using your own password. In My Effectory, you can see the response data and view the results for your team. You can see the response rate or results of the survey via the menu on the left-hand side.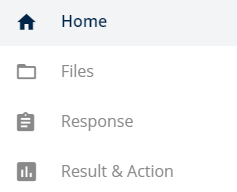 If the menu does not appear immediately after logging in to My Effectory, click on the three horizontal stripes at the top left. The menu will then appear on the left-hand side.

Want to download and print the report?
The results in My Effectory can also be viewed or downloaded as a PDF or PPT file. You can find the results by clicking the "Result & Action" link in the menu on the left-hand side. The button to download the results in PowerPoint and PDF format can be found at the top right of the screen.


Want results for different groups?
If, as a manager, you have access to the results for different groups, you can find the different team reports by navigating with the button below (left-hand side of the screen). 



Want to get started with the results?
The results for your team will be displayed interactively. You can browse through the results and pin certain insights (saving), so they can be used for the action plan. This allows you to always be aware of which score or insight requires a specific action.