This article guides you through the steps of personalizing your surveys and mailing designs in My Effectory. It will show you how new design templates are created, as well as how the design templates can be selected in the process of setting up a new survey.
Why customize your questionnaires and mailings?
Makes your questionnaire and mailings appear more engaging
Allows you to use your company's branding consistently
Facilitates a personalized participant experience
Creating a new design template
A Central or Project Coordinator can create a new design template for surveys and mailings.
Steps
Go to the Project in which you want to customize the design.
Open the Project settings by clicking the gear icon on the upper right.
Scroll to the section Design template.
Click on the button + Create template.
Preview your customizations in real-time on the right-hand side.
Click Save and your template is ready to be used for surveys!
Tip! You can also edit or remove templates and change the default template in Project Settings.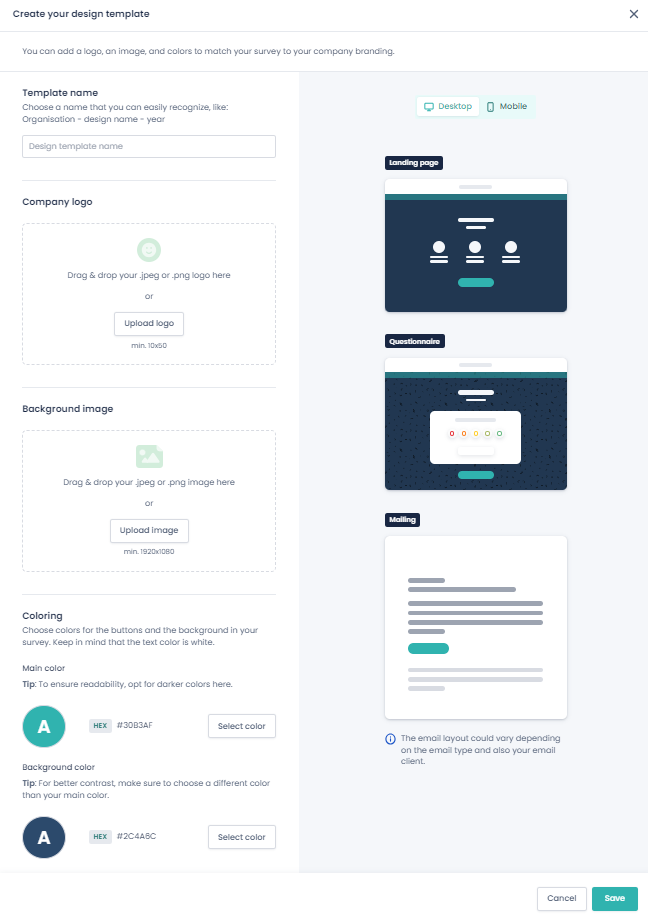 A design template consists of four elements that can be personalized as follows:
Template name: Choose a recognizable name for the template to make it reusable.
Company logo: Upload your logo in a .jpeg or .png format, minimum size 10x50. Your company logo will appear on both your surveys and mailings.
Background image: Upload a background image in .jpeg or .png format, minimum size 10x50, and a 14:25 ratio. It will be used on your survey landing page and in your mailings.
Coloring: Select a main color for buttons and one for the background.
Selecting an existing design template for your survey and mailings
When creating a new survey, you will be guided through four steps: Participants, Survey period, Questions, and Design. This last step lets you choose from the design templates previously created in the project by a Central Coordinator or Project Coordinator.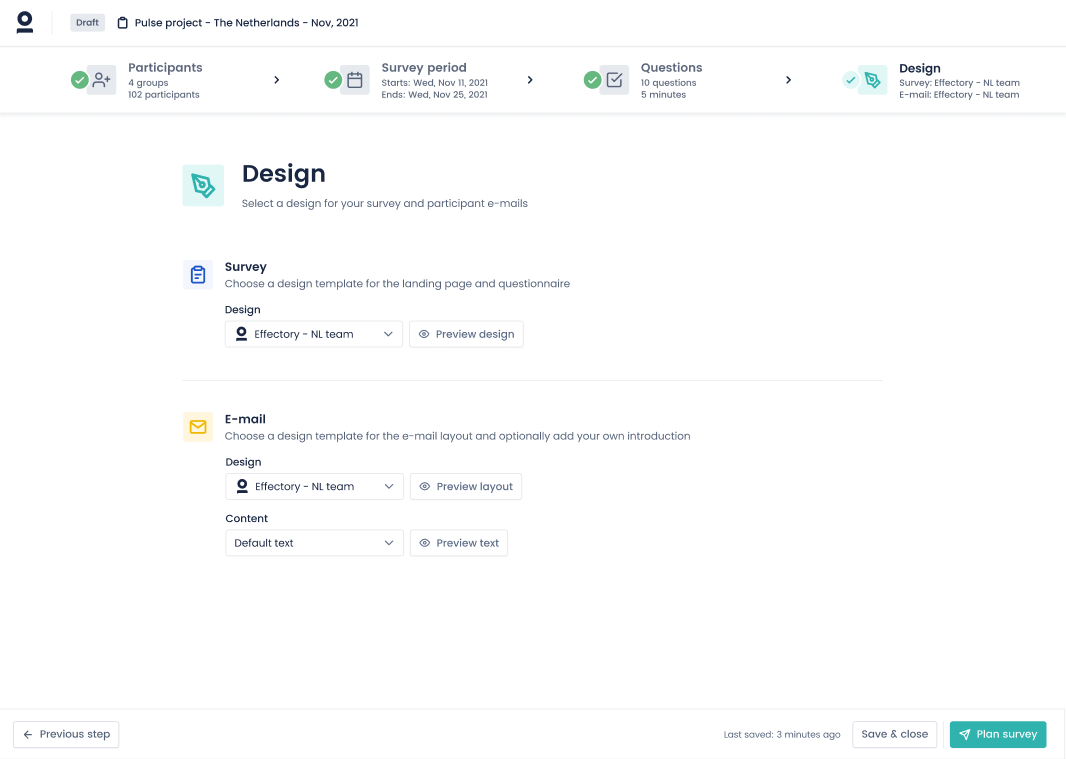 Note: In this step, you can also add a customized introduction text to your survey mailings. For more information, read: Adding a custom introduction to mailings.
Q&A
Who can create new design templates?
New design templates can only be created by Central Coordinators and Project Coordinators. The templates they create will be available for selection when a survey is created.

Who can use the design templates?
Any user with the right to create surveys (Central, Project, and Local Coordinators) can choose a questionnaire and mailing design when setting up a new survey. Selecting a design from existing templates is an integral part of the survey set-up.
How many design templates can be created?
As many as you want. There is no limit to the number of design templates that Central and Project Coordinators can create.
What if no custom templates are created?
No problem! Every project includes a default design template.
Can I use different designs for my questionnaire and the mailings within the same survey?
Yes, if multiple design templates are available in your project, you can select different ones for your questionnaire and mailings.
To which of my mailings will my design apply?
Design templates apply to survey invitations and reminder emails.
Is this feature available for all plans?
The ability to create and use custom design templates for questionnaires and emails is only available for specific plans. Want to find out more? Get in touch with your Customer Success Manager or reach out to our Helpdesk!